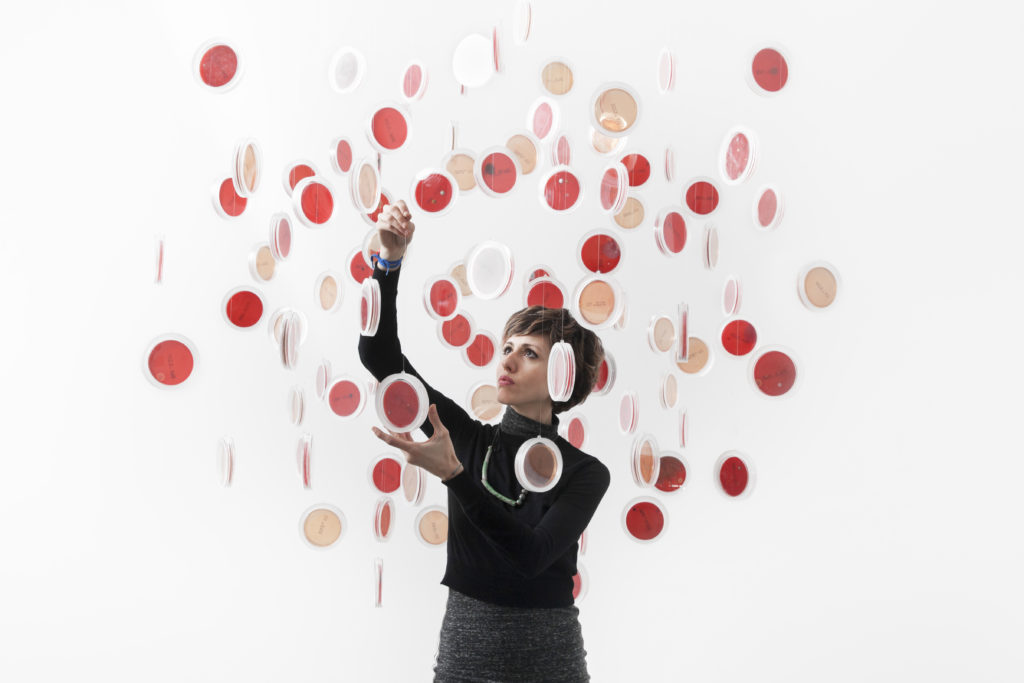 Giuseppina Giordano (Mazara del Vallo, Italy, 1987) is an interdependent artist.
She is the founder of Nocentre srl Società Benefit
She is one of the winning artist of Cantica21, Italian Contemporary Art Everywhere, the project funded by The Ministry of Foreign Affairs and International Cooperation – MAECI (DGSP – directorate general, country system and autonomous territorial entities) and the Ministry of Cultural Heritage and Activities and Tourism – MiBACT (DGCC – directorate general of contemporary creativity.)
She lives  wherever her body is.
2021 
IMPACT YOU TALENT, Social Impact, Innovation Entrepreneurship Program SDA Bocconi, Fondazione Social Venture GDA, Milan, Italy
2016
MFA with Honors in Visual Arts, Sculpture course, Brera Academy of Fine Arts, Milan,  Italy
2012
BFA with Honors in Painting,  Brera Academy of Fine Arts, Milan, Italy   
2006/2007
Department of Political Science and International Relations, University of Palermo, Italy  
PUBLIC ART PROJECTS – SPECIAL PROJECTS
2023
NOCENTRE –   Bomboniere, curated by Giuseppina Giordano, Davide Da pieve, Torretta Granitola, with the Patronage of the  Municipality of Campobello di Mazara, in collaboration with Nova Nova srl  Impresa Sociale and the support of Rotary Castelvetrano Valle del Belice, Toretta Granitola, Italy
Artists: Elena Mazzi, Rosario Sorbello
NOCENTRE – THE ARTIST DATE 
Artist: Fabio Badolato in collaboration with Ecomuseo Mare Memoria Viva, Palermo, Italy
Artist: Adriano La Licata, in collaboration with Ente Nazionale Sordi, Palermo, Italy
2022
I'M (NOT) A TREE #freedomodmovement, in occasion of Milano Green Week. Realized with the support of Fondazione Elpis, in collaboration with Forestami. Sponsored by Comitato Italiano Paralimpico – Regione Lombardia
2020/2022
Ritratti di Città, Radicondoli, Siena, Italy, curated by Culture Attive – supported by Radicondoli Municipality, Tuscan Region, Luigi Pecci Center for Contemporary Art, thanks to Toscanaincontemporanea2020
2021
Una Boccata D'Arte, a project by Elpis Foundation  in collaboration with Galleria Continua, Gressoney- Saint-Jean (AO) – Elpis Foundation contributor Alice Previtali
2023
Diàlogos, Italian Cultural Institute, Madrid (SP)
2019
06/09/19 – 09/02/2020
Please, teach me the language of a rose, curated by Patrick Shaw Cable, Taubman Museum of Art, Roanoke, USA
2017
OPEN MOUTH/ CLOSED MOUTH, curated by Ineke Gudmundsson, May Lee, Chinese European Art Center, Xiamen, China
SELECTED GROUP

 

EXHIBITIONS, FESTIVALS, FAIRS
2022
CantiereComune #4, curated by Michela Eremita,  Santa Maria della Scala, Museo per Bambini, Siena, Italy
Paesaggi Contemporanei, Radicondoli festival, Radicondoli (SI), Italy
2020
Ti Regalo Un'Idea, curated by Michela Eremita, Santa Maria della Scala Museum, Museo per Bambini, Siena, Italy
2019
BAM Festival, ÜberMauer, Palermo, Italy. THE WALL OF DELICACY for BAM is curated by Laura Francesca di Trapani
Assenze Presenti / Ausências Presentes, curated by Isa Helena Tibùrcio, Walk-in Studio Festival, Milan, Italy
BORDER CROSSING 2019, curated by Lori Adragna, Andrea Kantos, Teatro Garibaldi, Palermo, Italy 
BienNoLo, #eptacaidecafobia, biennial exhibition of contemporary art, curated by Carlo Vanoni, ArtCityLab, Matteo Bergamini, Alcova, Milan,  Italy
2018
SECRET SHOW – S.O.S. COTTON CANDY, call for a  break,  curated by Clara Madaro, Katiuscia Pompili, Turin, Italy
LONDON SUMMER INTENSIVE  SHOWCASE, curated by Gina Buenfeld, Gemma Wright, Amanprit Sandhu, Camden Arts Centre, London, UK
La solitudine del curatore, curated by Katiuscia Pompili, Sasvatii Santamaria, Kaoz, Palermo (Italy), Manifesta 12 Collateral Events
Mixed Media Residency showcase, curated by Bryan Shevlin, Conartist, Manhattan, New York, USA
2016
Domestic Flights, curated by Vittorio Corsini, Studi Festival, Milan, Italy
2015
Il pane e le rose (Bread and roses), curated by Marco Meneguzzo, Arnaldo Pomodoro Foundation, Milan, Italy 
Nel deserto cresce la ginestra (The broom grows in the desert), curated by Maurizio Guerri, Renata Fabbri art gallery, Milan, Italy
2014
Nottilucente 2014 (Shining at night), curated by Culture Attive and Brera Academy of Fine Arts, Torregrossa Civic Museums, San Gimignano (SI), Italy
Aule aperte-Open studios, MiArt fuorisalone, MiArt fair collateral event, Brera Academy of Fine Arts, Milan, Italy
2013
Last Young: under 35 in Italia (Last Young: under 35 in Italy), curated by Arianna Baldoni, Rossella Farinotti, Lorenzo Respi, Villa Brivio, Nova Milanese (MI), Italy 
Videoart Yearbook, screening program, curated by Renato Barilli, Museo del Novecento, Milan, Italy
2012
On video for hours and hours III, curated by Renato Barilli, Guido Bartorelli, ArteBoccanera  art gallery, Trento, Italy
Videoart Yearbook 2012, Italian Videoart Festival, curated  by Renato Barilli, Guido Bartorelli, Angela Borgogelli, Paolo Granata, Saint Christina Cloister, Bologna, Italy
RESIDENCIES, FELLOWSHIPS, GRANT
2023 
 Italian Cultural Institute, Madrid, SP
March 2017- March 2020
TSS Traveling Artist, The Secular Society, USA
2019
The Studios at MASS MoCA, Massachusetts Museum of Contemporary Art, North Adams, USA
2018
London Summer Intensive, Camden Arts Centre & Slade School of Fine Art, London, UK
Mixed Media Residency, Conartist Collective, Manhattan, New York, USA
2017
CEAC Chinese European Art Center, Xiamen, Fujian, P.R. China 
VIR Viafarini-in-residence, Milan, Italy
Arteam Cup, winner of Espoarte Prize, Villa Nobel, Sanremo, Italy
COMBAT PRIZE, finalist, Museo Civico Giovanni Fattori, Livorno, Italy
Arte Laguna Prize, finalist, Venice, Italy
2018
Premio Francesco Fabbri per le arti contemporanee, finalist, Pieve di Soligo, Italy
2012
Salon primo 2012, first prize, Milan, Italy 
2011
Envie Prize, finalist, Milan, Italy 
2020
SCHEDULED, February
WORKSHOP, TRACES OF DREAMT CHILDREN, Taubman Museum of Art, Roanoke, USA
2019
TALK, Meet The Artist, Taubman Museum of Art, Roanoke, USA
WORKSHOP, DIY vase, Taubman Museum of Art, Roanoke, USA
2018
TALK, Presente!, Brera Academy of fine arts, Milan, Italy
2016 /2017
Responsible for TSS of the virtual reality project "Labyrinth", by Arnaldo Pomodoro, on show from 30/11/2016 to 5/02/2017 at Palazzo Reale, Milan, Italy