Giuseppina Giordano
Please, Teach Me the Language of a Rose
curated by Patrick shaw cable
Taubman Museum of Art, Roanoke, USA
06/09/2019-09/06/2020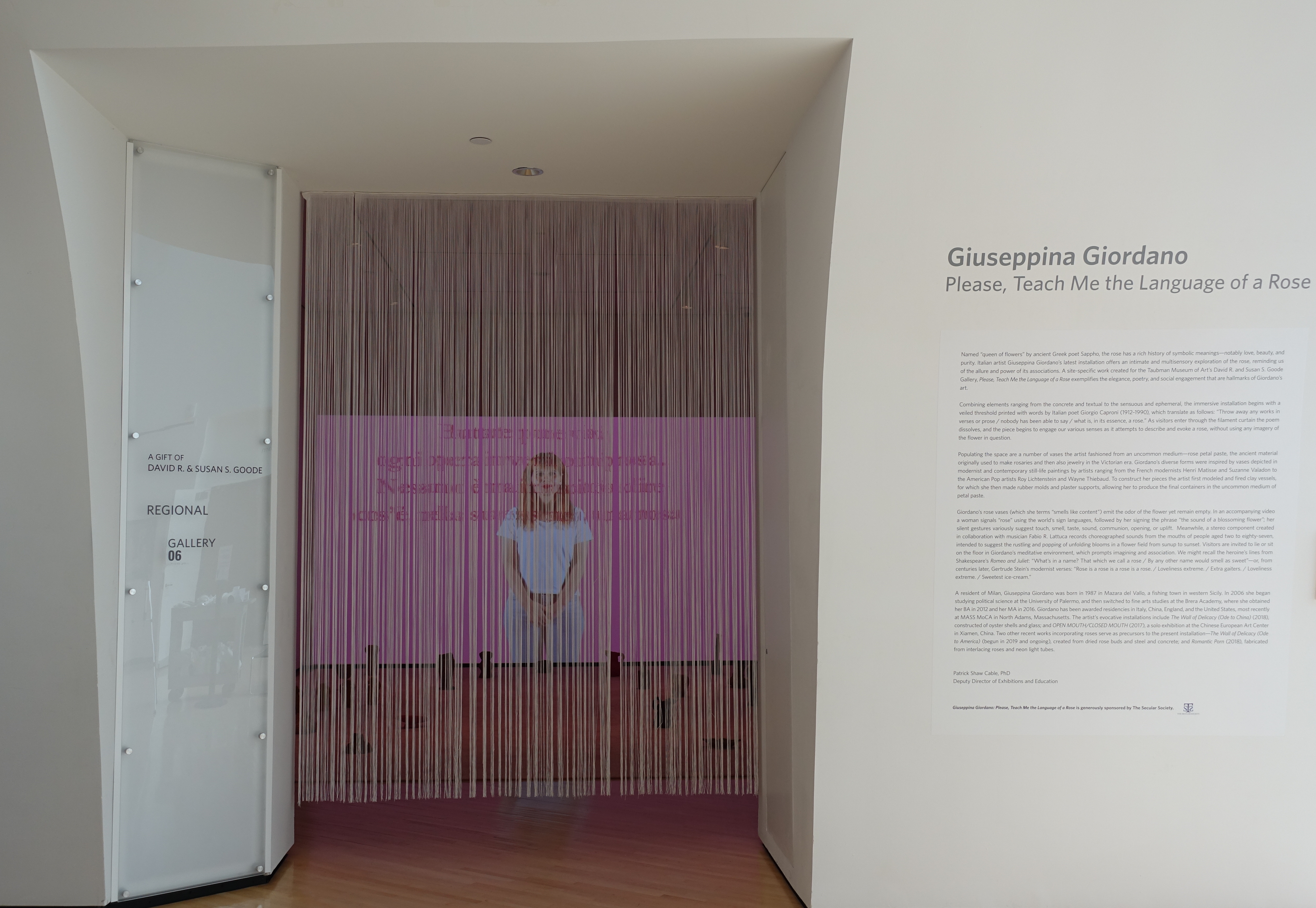 Named "queen of flowers" by ancient Greek poet Sappho, the rose has a rich history of symbolic meanings—notably love, beauty, and purity. Italian artist Giuseppina Giordano's latest installation offers an intimate and multisensory exploration of the rose, reminding us of the allure and power of its associations. A site-specific work created for the Taubman Museum of Art's David R. and Susan S. Goode Gallery, Please, Teach Me the Language of a Rose exemplifies the elegance, poetry, and social engagement that are hallmarks of Giordano's art.
Combining elements ranging from the concrete and textual to the sensuous and ephemeral, the immersive installation begins with a veiled threshold printed with words by Italian poet Giorgio Caproni (1912–1990), which translate as follows: "Throw away any works in verses or prose / nobody has been able to say / what is, in its essence, a rose." From there the piece engages our various senses as it attempts to describe and evoke a rose, without using any imagery of the flower in question.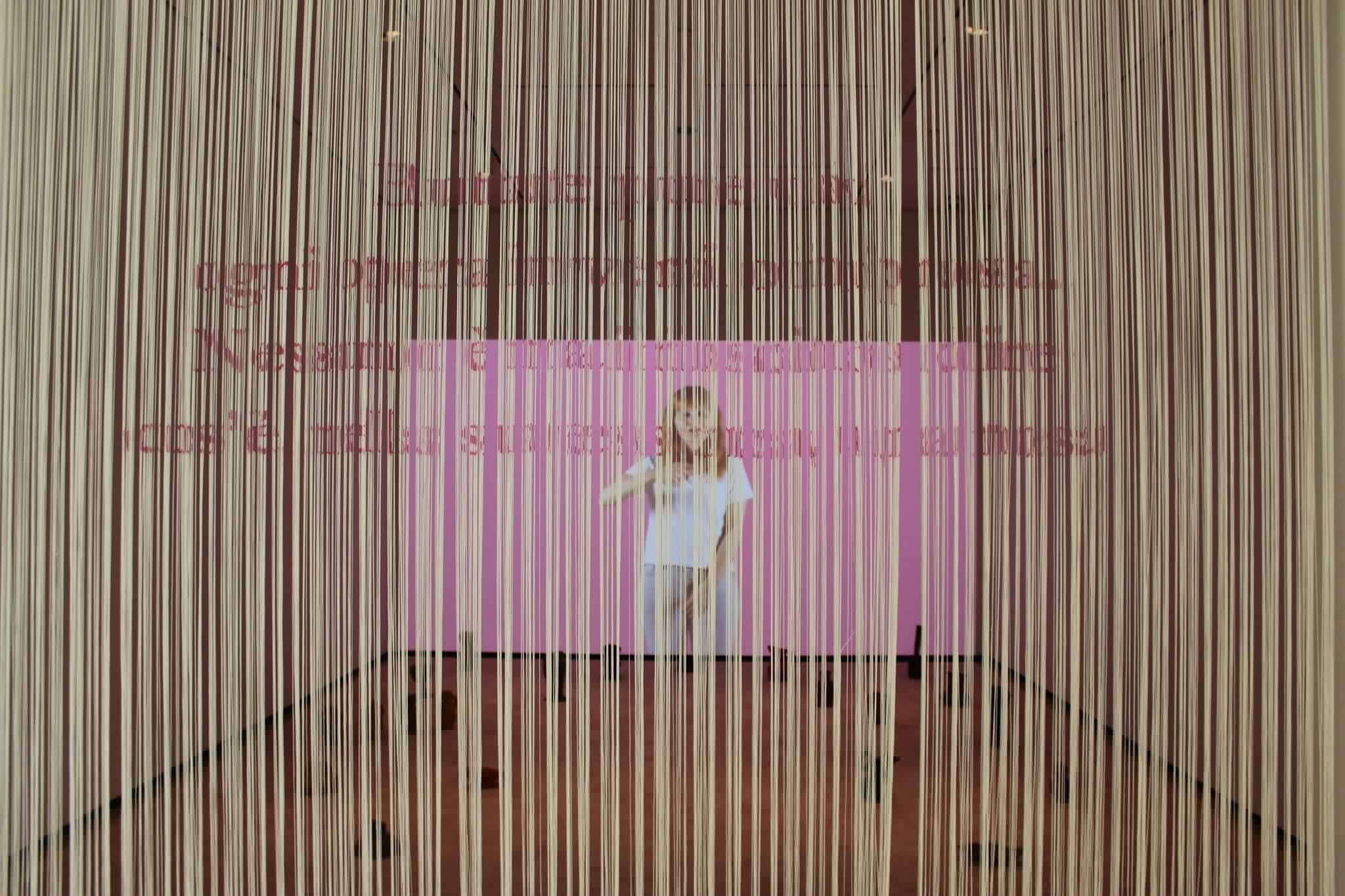 Populating the space are a number of vases the artist fashioned from an uncommon medium—rose petal paste, the ancient material originally used to make rosaries and then also jewelry in the Victorian era. Giordano's diverse forms were inspired by vases depicted in modernist and contemporary still-life paintings by artists ranging from the French modernists Henri Matisse and Suzanne Valadon to the American Pop artists Roy Lichtenstein and Wayne Thiebaud. To construct her pieces the artist first modeled and fired clay vessels, for which she then made rubber molds and plaster supports, allowing her to produce the final containers in the uncommon medium of petal paste.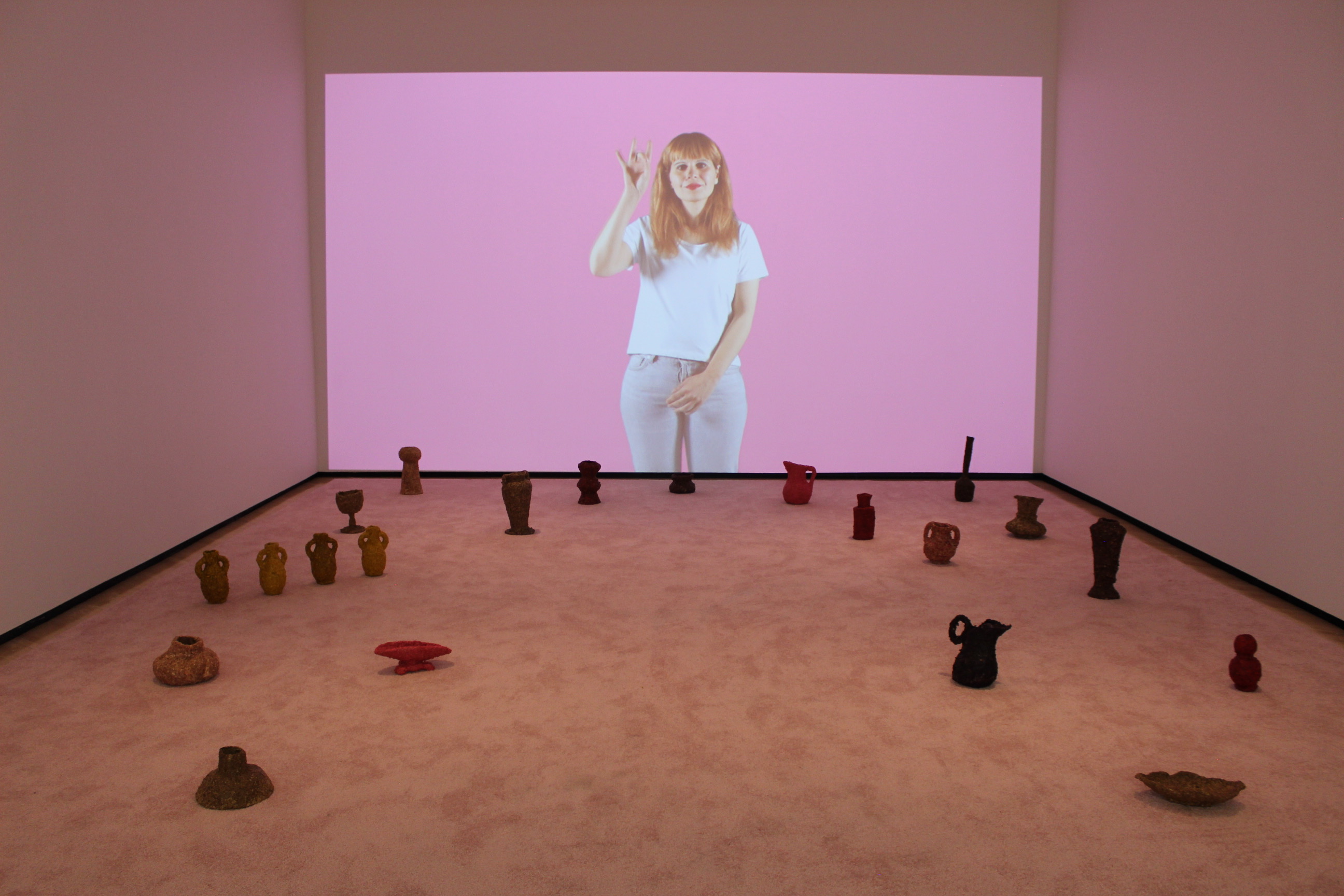 Giordano's rose vases (which she terms "smells like content") emit the odor of the flower yet remain empty. In an accompanying video a woman signals "rose" using the world's sign languages, followed by her signing the phrase "the sound of a blossoming flower"; her silent gestures variously suggest touch, smell, taste, sound, communion, opening, or uplift.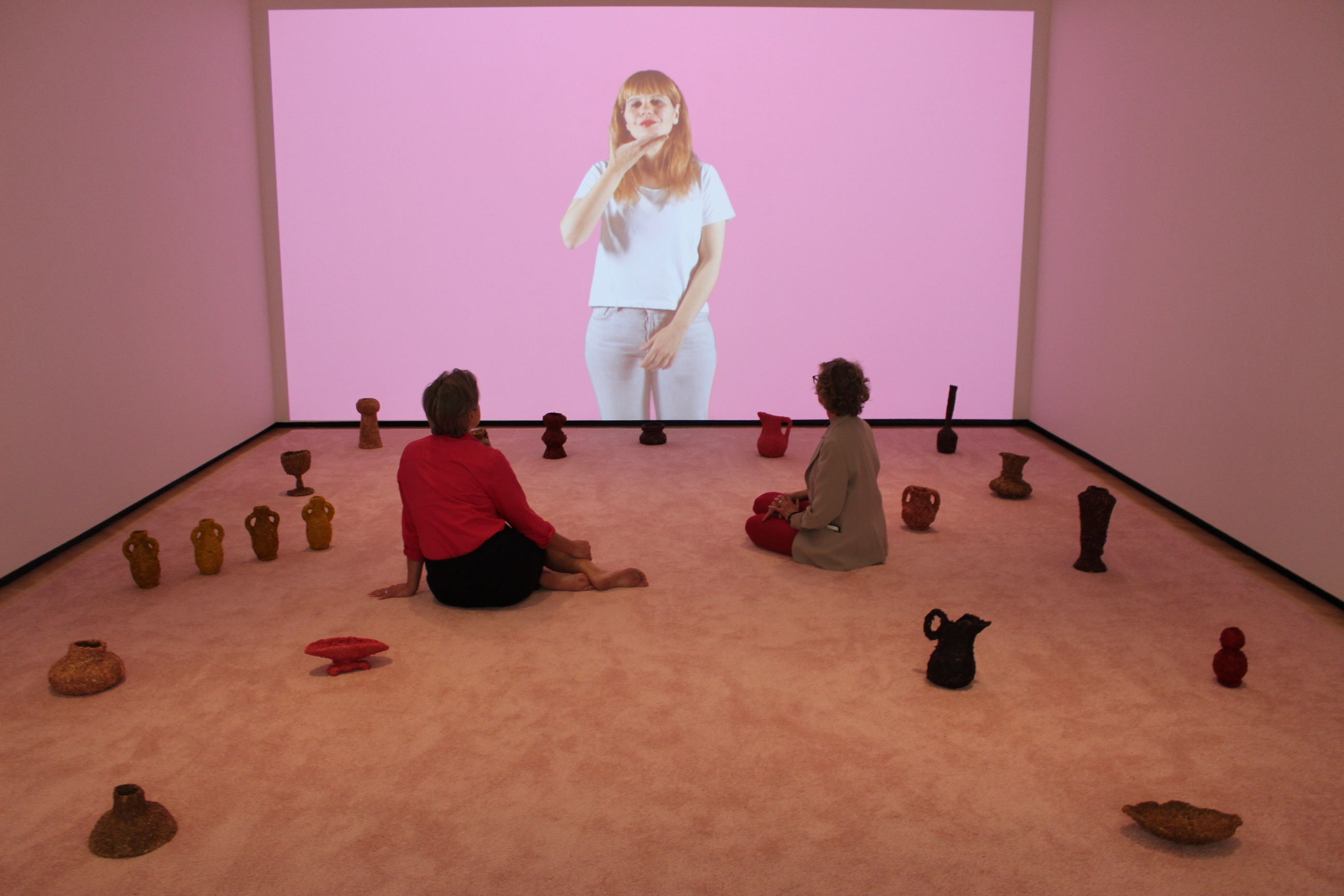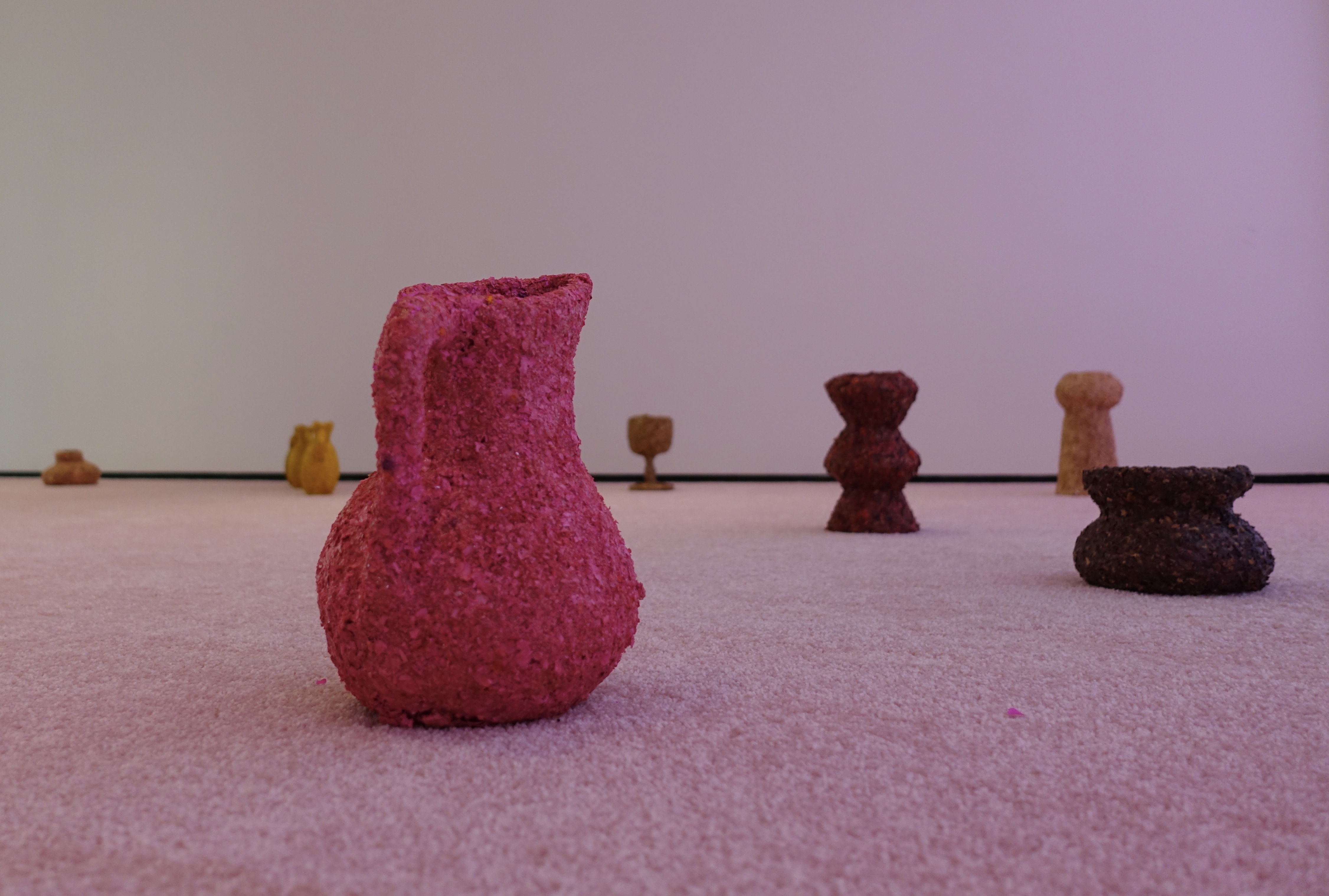 Meanwhile, a stereo component created in collaboration with musician Fabio R. Lattuca records choreographed sounds from the mouths of people aged two to eighty-seven, intended to suggest the rustling and popping of unfolding blooms in a flower field from sunup to sunset. Visitors are invited to lie or sit on the floor in Giordano's meditative environment, which prompts imagining and association. We might recall the heroine's lines from Shakespeare's Romeo and Juliet: "What's in a name? That which we call a rose / By any other name would smell as sweet"—or, from centuries later, Gertrude Stein's modernist verses: "Rose is a rose is a rose is a rose. / Loveliness extreme. / Extra gaiters. / Loveliness extreme. / Sweetest ice-cream."
Patrick Shaw Cable, PhD
Deputy Director of Exhibitions and Education, Taubman Museum of Art, Roanoke, USA
Giuseppina Giordano: Please, Teach Me the Language of a Rose is generously sponsored by The Secular Society.