BORDER CROSSING 201,  PALERMO, Italy
Curated by Lori Adragna, Border Crossing, Bridge Art, Chambre à air
with Assistants Valentina Chiarello, Martina Guglielmo info.bridgeart@gmail.com www.bridgeart.it – bordercrossing2018@gmail.com –
DATE From May 30th to June 1st
Opening Friday, May 31 – 11am – 1pm / 5pm – 8pm – group show / talk, Teatro Garibaldi, Dimora OZ at Palazzo Sambuca, KaOZ Piazza Magione.
Inauguration May 31st at 6:00 pm, Teatro Garibaldi
Saturday 1 June 11am – 1pm / 5pm – 20 Video Art Forum Mediterraneum, Garibaldi Theater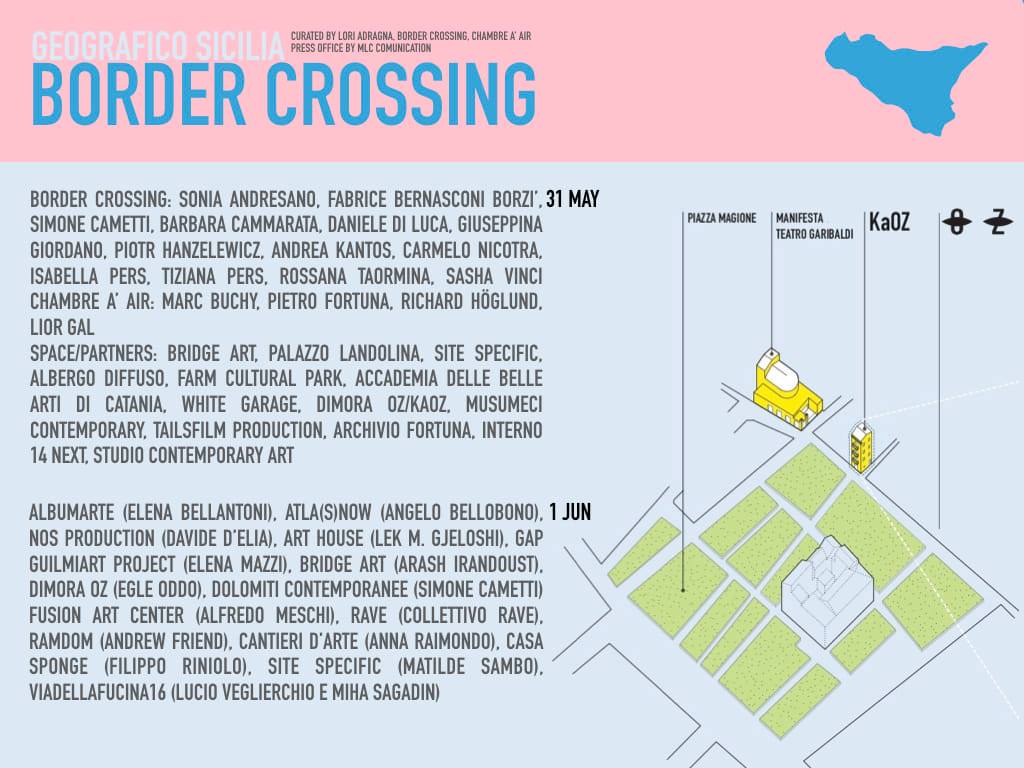 Border Crossing elaborates a synergy of public and private spaces to host productions and talks: Dimora OZ, at Palazzo Sambuca, KaOZ and the Garibaldi theater, three spaces within the program of Palermo Culture and Contemporary Magione, in a system of places of research, comparison and cultural production.
The first appointment will be with Geografico #Sicilia, a project conceived by Chambres à Air, a platform created by Pietro Fortuna in Brussels. The project, which is coordinated by Lori Adragna and organized by Bridge Art / Border Crossing, involves a traveling journey by Marc Buchy (France), Pietro Fortuna (Italy), Richard Höglund (United States), Lior Gal (Israel) at various venues and art centers: (Bridge Art, Noto – Dimora Oz / KaOz, Palermo – Farm Cultural Park, Favara – Site Specific, Scicli – White Garage, Catania). The final event organized by Border Crossing will take place in Piazza Magione, with the artists of Geografico #Sicilia and a group show curated by Lori Adragna, with Sonia Andresano, Fabrice Bernasconi Borzì, Marc Buchy, Simone Cametti, Barbara Cammarata, Daniele Di Luca , Pietro Fortuna, Richard Höglund, Lior Gal, Giuseppina Giordano, Piotr Hanzelewicz, Andrea Kantos, Carmelo Nicotra, Isabella Pers, Tiziana Pers, Rossana Taormina, Sasha Vinci.
Border Crossing will close with the VideoArtForum Border Crossing_Mediterraneum curated by Lori Adragna and Andrea Kantos, a marathon of videos and talks presented within the Garibaldi Theater which will involve some independent projects, on the various suggestions stemming from the theme "Mediterranean". The curator, Lori Adragna, writes: "As Predrag Matvejević states: the Mediterranean is not just geography. The history of mankind has originated within its shores and in the lands it bathes. From its waters civilizations and spilled empires poured. In that sea, which the Romans called "nostrum", starting a whole mythology, three worlds (Christian, Islamic and Jewish) and three different political-economic systems converge: on the other hand it is the theater of conflicts, problems of trade regulation and of human flows, of fundamentalism, not only religious by starting from art and culture as a shared heritage we can orientate a change, imagine a Mediterranean that goes back to being a crossroads for exchanges and of development paths. And here contemporary art can play a leading role: by remixing the waters, reflecting and making them reflect, valuing the differences, prefiguring the space of a sea without borders. "
The spaces invited to the VideoArtForum are: Album Arte, Rome – Art House, Scutari – Atla(s)now, Morocco – Bridge Art, Noto (SR) – Art sites / La Ville Ouverte, Viterbo – Casa Sponge, Pergola (PU ) – Dimora Oz, Palermo – Dolomiti Contemporanee, Dolomites – Fusion Art Center, Padua – GAP Guilmi Art Project, Guilmi, (CH) Abruzzo – NOS Visual Art Production, Bologna – Ramdom, Gagliano del Capo (LE) – RAVE East Village Artist Residency, Trivignano Udinese (UD) – Site Specific, Scicli (RG) – ViadellaFucina16 condominium-museum, Turin
The artists presented by each space for the video review are: Elena Bellantoni (Art Album), Angelo Bellobono (Atla (s) now), Simone Cametti (Dolomiti Contemporanee), Davide D'Elia (NOS), Andrew Friend (Ramdom), Lek M. Gjeloshi (Art House), Arash Irandoust (Bridge Art), Elena Mazzi (GAP Guilmi), Alfredo Meschi (Fusion Art Center), Egle Oddo (Dimora Oz), Anna Raimondo (Cantieri d'Arte), Collective RAVE ( RAVE), Filippo Riniolo (Sponge House), Lucio Viglierchio and Miha Sagadin (ViadellaFucina16), Matilde Sambo (Site Specific).
https://insideart.eu/2019/06/27/border-crossing-torna-a-palermo/